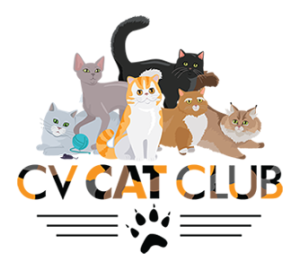 Coachella Valley Cat Club is a nonprofit 501 (c) (3) composed of a small team of volunteers who are dedicated to helping cats in need including abandoned, stray, semi-feral and feral cats, and kittens. We socialize rescued kittens and re-socialize the abandoned and others as they have often been left with no human contact for many months. We spay and neuter, vaccinate, provide medical care for sick and injured cats, and give quality care until loving homes are found. In addition, we provide food daily to feral cats in the surrounding community.
We do not receive any funding and are only able to continue our rescue work due to the generosity of donors. We are in need of assistance for covering the costs of food, vaccinations, spay/neuter, veterinary care for injured and sick, catios/outdoor areas, and of course toys and cat towers! If you are able to donate monetarily or with food and supplies we are forever grateful. We are also in search of foster homes and volunteers — if you are interested, please contact us at chris@cvcatclub.org.
Board of Directors
Chris Martello, President
Seth Eisman, Vice President
Suzi Weaver, Treasurer
Pam Price, Secretary
Kris Wilson, Committee Chair
SERVICES
Cat Rescue & Adoption
We rescue feral kittens and stray adult cats, socialize or re-socialize them and re-home them.
Your donation in any amount is greatly appreciated
All donations are used for veterinary care and cat supplies.
Donate
We are a nonprofit 501(c)(3) and tax exempt.
Our EIN # is 85-37655488.
---
Wish List available on Chewy.com
If you prefer to send supplies, just click here.
Please note that Chewy does not inform us of who donates, so please drop us a direct note on our Contact page, or email us, and let us know so that we can personally thank you – we have some very simple but fun thank you tokens!!!
---
AMAZON
In addition, you can help us raise funds by shopping on Amazon, log in with your usual username/password, but at www.smile.amazon.com and select "Coachella Valley Cat Club" as your charity of choice. Amazon will donate a small percentage of your qualifying purchases to us!
CV Cat Club Membership
Review our Club Membership levels under the CV CAT CLUB MEMBERSHIP tab!